Gemstone Strength Chart x Midwinter Co.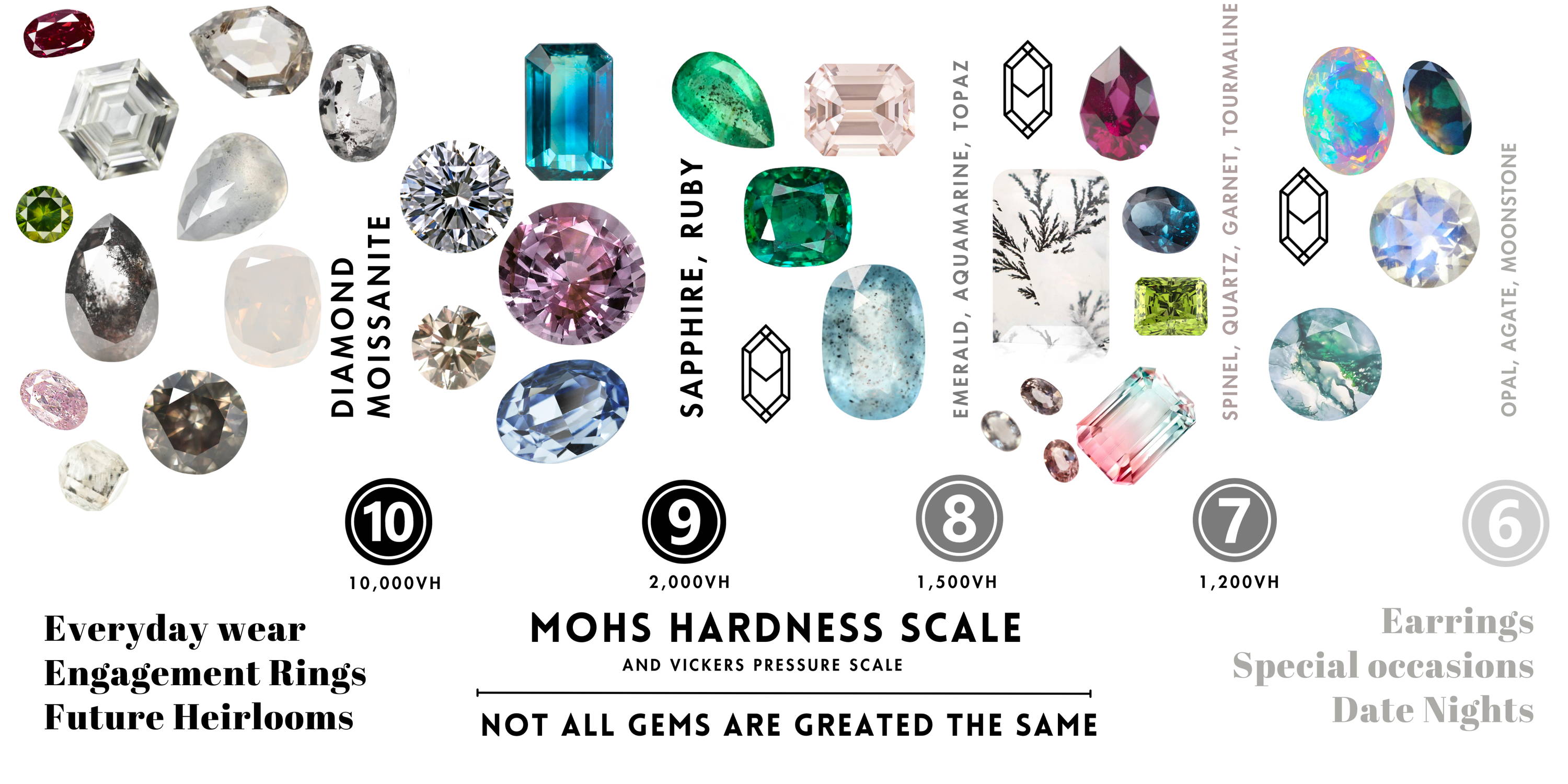 "I'm not a fan of the 'traditional diamond', and wanted a colored stone. After doing some research, I felt like only diamonds were safest for my activity level. Midwinter Co. custom sourced me options so that I could pick the diamond of my daydreams - my 2 carat diamond is blue, green, and all the teals in between." - Review
Minerals crystalize into stones.
All natural minerals have mixed properties that determine strength against scratches and damage.

 

Diamonds are the strongest mineral on the planet against pressure and scratches.

 

Diamonds are on a whole different level. Sapphires, although stronger than most other colored gems, are 5x softer (scratchable) than diamonds.

 

Sapphires are stronger than similar looking gemstones. When in doubt, but in love with colored gems, we suggest Sapphire for the durability.

 

Diamonds and Sapphires are best for everyday wear.
DID YOU KNOW?
  Vickers scale: Diamonds are 10,000VH vs. Sapphires at 2,000VH
  Diamonds and Sapphires can come in every color of the rainbow
  Diamonds are the strongest natural mineral on planet Earth  
Midwinter Co. Gemstone & Diamond F.A.Q.
1. Can any stone be an engagement ring stone?
This is a personal decision that depends on what you personally value (sentiment of a birthstone vs. collector's value, for instance). As jewelers, we want you to think about how often it will be worn and how active you are. We recommend the strongest stones that are a 9 Mohs or above for everyday wear: Diamonds, Moissanite, Sapphire.
2. Do I need insurance on my stone?
After the jewelry leaves our studio, it is leaving the nest (no longer in our control). We have a built in warranty, but it cannot cover damage done to the main stones. Sometimes rings are lost, damaged beyond repair, or stolen. A third party insurance company like Jewelers Mutual or your home insurance are a good idea to protect your pieces. You do not need insurance, but you might think on it if you need a sense of security on your investment. Midwinter does not sell or broker jewelry insurance.
3. How do I wear fine jewelry with care?
"Wear with care" means while wearing a piece of fine jewelry, you simply be extra aware of the amount of pressure that is hitting the jewelry, & avoiding strong chemicals that may react with the gold to create oxidation.
4. What makes your diamonds more environmentally friendly?
The diamonds we use are less taxing on the earth to find, to mine, and to ship. To find the clear diamonds that the jewelry industry pushes, mining companies cause huge disturbances in the earth. They then ship off hundreds of tons of earth to another country to be sifted through to find just one carat of the clear perfectly clean diamonds the world wants. Mining the diamonds we use is very minimal in comparison. Yes, they are still shipped, yes they are still mined in the earth. Yet, the amount of ore that needs to be shipped is much less. Mining is much less deep causing less of a disturbance to get to them.
5. What makes Midwinter Co. Celestial Diamonds so different?
The diamonds we source are unique looking because of their natural character. All genuine diamonds are mined from the earth and are made of crystalized carbon within ore. Because they are formed in the earth, most natural diamonds have birthmarks. Natural diamonds can also get their character from the traces of hematite, graphite, and magnetite that has not yet crystalized which creates the unique dark beauty within.
"Perfect" Diamonds are often treated to remove inclusions, or are thought of as less beautiful for having hidden inclusions. We simply chose not to conform to the mainstream idea of perfection based on standards made long ago, and believe our diamonds with their obvious inclusions are the epitome of true perfection: each is unique, real, and stunningly beautiful in it's own right... just like the person wearing it.
6. What can you share about Midwinter Co. stone sourcing?
Diamonds - The majority of our diamonds and gems are sourced directly from mines in Canada, Botswana, and South Africa. They are often cut in unique shapes by our suppliers in India, who buy rough stones in bulk through the Kimberley Process Scheme.
The supplier of our smaller accent diamonds is also a part of the Diamond Manufacturers and Importers Association of America, whose mission is to promote the highest standards of ethics, integrity and professionalism in the American marketplace.

Gemstones - Our main gemstone supplier has experts visit the mines they purchase from to ensure that they maintain socially responsible practices and that they comply with the US Patriot Act. Our main gem supplier belongs to the American Gem Trade Association, which requires its members to uphold the highest ethical standards in their business practices.
Our buyers also order unique cuts and hand pick gems from artisan gemstone cutters that have purchased their rough gems through Kimberley Process approved channels.
7. Are diamonds really forever?
"Diamonds are forever" is a known phrase due to advertising. Let's break it down:
Can diamonds shatter and/or break? YES, all minerals including diamonds and gold can break. A hammer can shatter a diamond into dust.
However, diamonds are difficult to scratch, and takes a harder hit before damage is done, making their strength above all other minerals. Diamods are so strong they are used to cut all other materials including sapphires and metals.
Are diamonds forever if they're taken care of well? Yes, because diamonds were made of ancient solid crystalized natural carbon.
Shop stones for custom work